Faith, Education and the Ecological Crisis: online symposium
July 14, 2022 @ 5:00 pm

-

8:00 pm
 An online symposium asking: 'How we can empower our young people to take action and become the ecological citizens of the future?'
The 'Laudato Si' Champions' project is an educational initiative of the Catholic Church's 'Guardians of Creation' project, which is holding an online symposium on 14 July on Faith, Education and the Ecological Crisis. All are welcome to attend the FREE event; tickets available via this Eventbrite link: https://www.eventbrite.co.uk/e/faith-education-and-the-ecological-crisis-an-online-symposium-tickets-361791657587
This symposium brings together voices from across the education sector, including teachers, educators, and academics, to explore the themes of education, faith, and ecology. Join us as we share new ideas, lived experiences, and innovative research about climate education in an exciting evening of talks and presentations.
A full schedule will be released closer to the event.
About this event

'A great cultural, spiritual and educational challenge stands before us […] Education in environmental responsibility can encourage ways of acting which directly and significantly affect the world around us […] living our vocation to be protectors of God's handiwork.'
– Pope Francis, Laudato Si' (2015, 202-217)
Seven years after the publication of Laudato Si', educators continue to face the challenge of integrating faith and spirituality into teaching about our present ecological crisis. How can we empower our young people to take action and become the ecological citizens of the future?
Keynote from Sr. Margaret Atkins
We are excited to welcome Sr Margaret Atkins, Canoness of St Augustine and Research Fellow at Blackfriars, Oxford, as our keynote speaker at this symposium. She will be presenting her research around virtue ethics and environmental ethics in Augustinian theology to conclude our evening. Alongside presentations from numerous panellists from various disciplines, the evening is sure to be packed with insightful discussions on faith, education, and the ecological crisis.
Call for papers
We have an open call for papers if you would like to present a 10-minute paper at our symposium. Whether you are a teacher in a school or an academic working in HE, we welcome submissions from people across the education sector. We're especially interested in hearing about the experiences of educators in creating sustainability initiatives for young people.
*Deadline extension* – If you'd like to submit a paper, please submit an abstract between 200-300 words and a brief biography (max 50 words) to Ruth-Anne at ruth.walbank@stmarys.ac.uk by 30th June.
You can download the full call for papers here.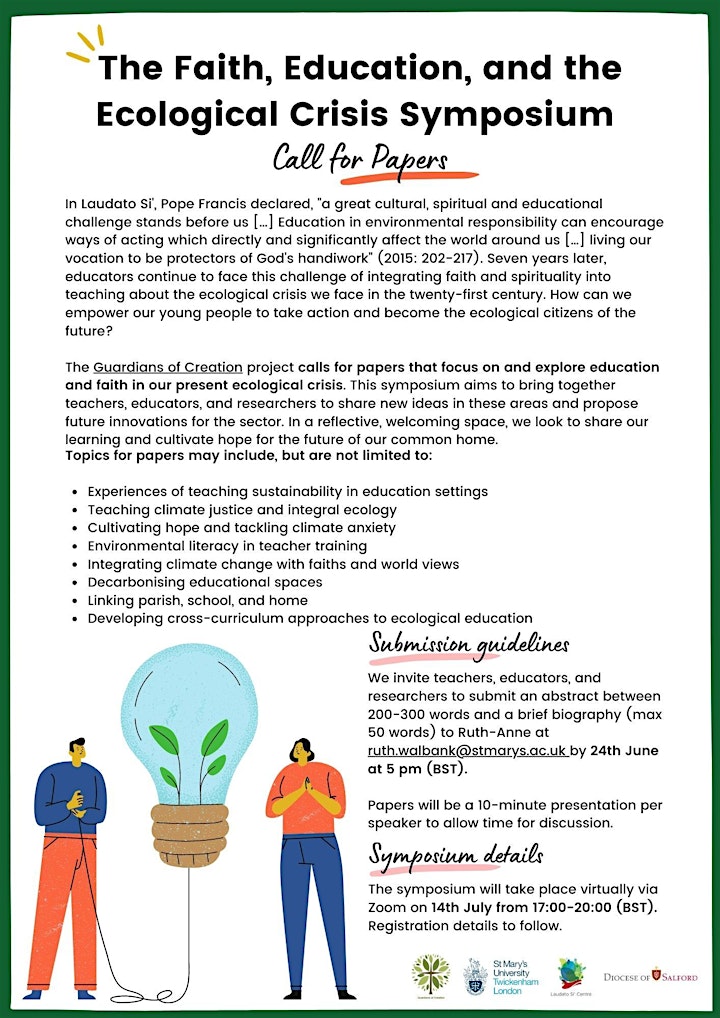 Get in touch
This event is hosted by the Guardians of Creation project in partnership with St Mary's University, Twickenham and the Laudato Si' Centre at the Diocese of Salford.
If you have any questions about the symposium, please get in touch with Ruth-Anne at ruth.walbank@stmarys.ac.uk